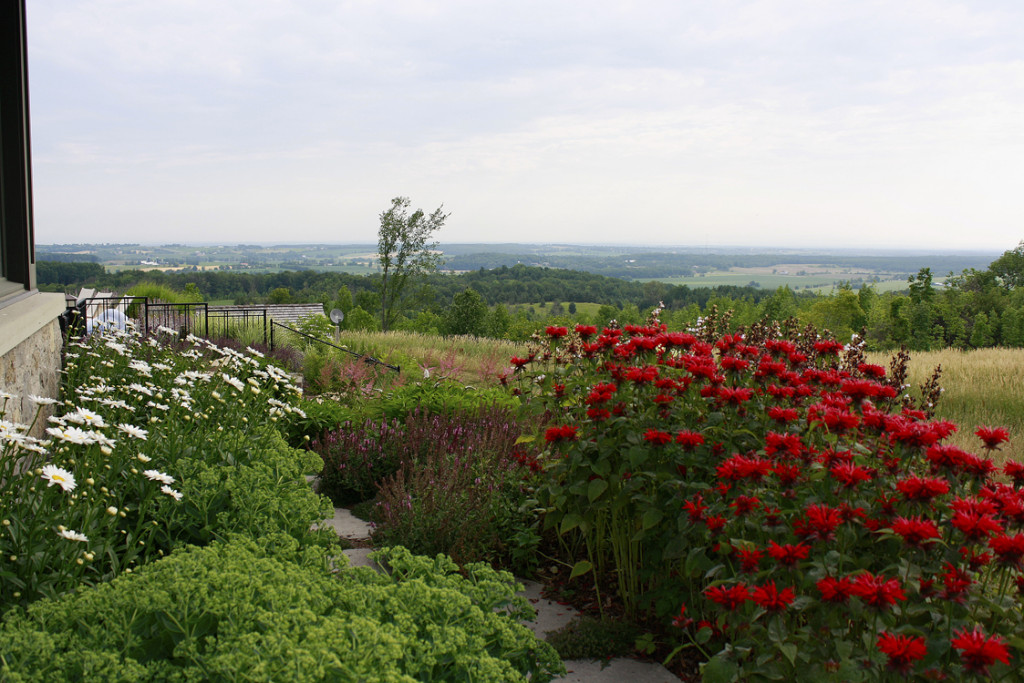 The Backstory
As a child, Ian's family moved to the country. Feeling far from uprooted, he had found his place and his new location captured his imagination. Little did he know that his new appreciation for the surrounding flora and fauna, would become foundational thinking. Another pivotal moment happened early in his career, when Ian was delivering plants to the then new Toronto Reference Library. The tropical plants made him wonder, "Where are these plants indigenous to? What's indigenous around here?"
Ian made a decision whilst traveling, to pursue a career in Landscape Architecture. Upon returning, he discovered the program at the University of Toronto, had reached capacity. He asked, "What if we could find the space?" After a weekend of what can only be described as street level, guerilla building and design, the Professor to student ratio rose from 40:1 to 42:1. Monday morning's design studio at 230 Collège Street in Toronto, now included Ian and his equally industrious co-conspirator. The two were seated in a newly built mezzanine, constructed using reclaimed lumber, complete with handmade drafting tables. What could faculty say?
In the early 1980's Enviroscape moved to Toronto's downtown core. Along with his brother Craig (Bsc Horticulture, Guelph). Enviroscape specialized in Landscape Design and Construction. Through those highly productive years, although immersed in the culture, urban environment and all the city had to offer, Ian never lost his affection for the country and the natural heritage of the Ontario landscape. In 1983 with a vision to the future and a desire to keep his hands and feet in the soil, Ian became part owner of a farm property about an hour north of the city. In 1985 Ian became a member of the Ontario Association of Landscape Architects (OALA) and the Canadian Society of Landscape Architects (CSLA). He remained a full member in good standing until 2021 when he chose to opt out of the OALA and CSLA but continue to practice as a Landscape Consultant.
In 2000, after 20 plus successful years, Craig Payne retired from the business while Ian and Enviroscape relocated full time to his beloved farm in the countryside. At that time, Viki Reynolds joined the team, to partner in the planning and development of a native tree and shrub nursery on the property. Not So Hollow Farm, a pioneering concept then, had it's first native plant leave the farm gate in 2003. As desire for native species increased, Not So Hollow Farm expanded in response. The nursery's plants can be found populating many of the restored green spaces in the G.T.A. and southern Georgian Bay region. Not So Hollow Farm has quickly become a "go-to" destination for landscape professionals and native plant enthusiasts all across Ontaio.
Ian's decades of experience have honed his aesthetic. Regardless of the scope and scale, his skills and design philosophy intertwine on every custom project he oversees. Re-imagining the existing elements of a given location and harnessing its natural attributes to maximize its potential are Ian's greatest strengths. Local, native and green are more than just buzz words at Enviroscape.
Ian has put together a trusted team of local tradespeople to implement his designs. Today, Enviroscape and Not So Hollow Farm are staffed by a dedicated team, who believe passionately in living and working green.
Utilizing innovative green building methods, Ian and Viki, have built a truly forward thinking home-base with shipping containers, a green roof and an indoor wood-burning pizza oven. The home is surrounded by ever evolving regenerative and permaculture style gardens. Located in the idyllic purple hills of Mulmur, this is the perfect headquarters for Enviroscape and Not So Hollow Farm. When it comes to harmonizing divergent materials—it's not experimentation, it is experience.
Ian Payne is multifaceted; Farmer, Innovator, Music lover, Techie, Vegan Foodie and Landscape Consultant. His lifestyle informs his creativity—which fuels his design. Design which will enrich both your lifestyle and enjoyment.
Ian can be reached at:
idpayne@enviroscape.on.ca
705-466-6290.
www.enviroscape.on.ca www.notsohollowfarm.ca